Stained Glass – An Aesthetic and Cost-effective Option for Restaurants, Pubs, Bars and Casinos
Do you own a customer-oriented business like a restaurant, pub, bar or a casino? How about creating an atmosphere of revelry then?
Just imagine a stained glass ceiling with a huge crab for your seafood restaurant. The options with stained glass decorative options are unlimited.
All you need is a bit of creative imagination. Our experts with huge experience in handcrafting stained glass items will make what you envision, a reality.
We understand that the uniqueness of your business establishment is vital for you and we work with you to materialize your business theme.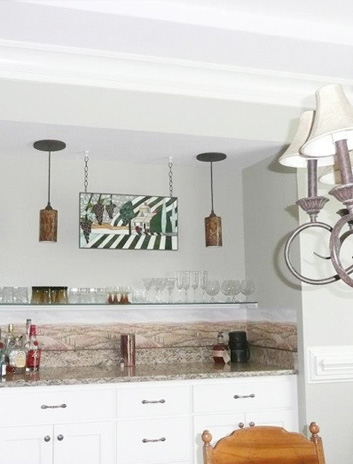 Restaurants, Pubs, Casinos & Bars
We can customize any window you like in your desired shape, color or size!
Easy maintenance, cost effectiveness, and aesthetics all come together when you choose us to design your restaurants, pubs, bars and casinos. Our stained glass designs will make your business stand out.
Stained glass is precisely what your business need!
Create the ambience of your choice with stained glass: You want people to stick on to your business and spend time in your restaurants, casinos, pubs and bars. We aid you in creating an ambience that holds them down for long.
High durability and easy maintenance: Accidental spillage will never be a worry when you opt for stained glass. All it takes is a gentle wipe and it's as good as new again.
Excellent option to decorate the bar counter: The bar counter is an integral and most important aspect of any hospitality business. Stained glass adds durability and timeless beauty to this portion of the interior.
Restaurants, Pubs, Casinos & Bars
We draw in Stained Glass the C-37 Gulfstream V aircraft, and the capitol for one of the main windows. We can create a Stained Glass Window using any Insignia!
Renovation and Changing Theme Becomes Easy with Stained Glass
A good businessman knows the importance of changing the theme and look of the business over time. However, cost is always a consideration. When you opt for stained glass designs, you pave way for cost-effective renovation later. All you need to do is change the stained glass and retain the frames. Now that's intelligently cost effective isn't it?
Stained Glass Designs for Restaurants, Pubs, Bars and Casinos are Evergreen
We mean it literally! Take for instance The Palm Court at the Plaza in New York. It's probably the most luxurious looking place to enjoy a quiet tea. The structure has 1800 square foot of stained glass! If you're looking at magnanimity in design like this, we can make it happen for you. Our high technology and experience will come quite handy in this aesthetic endeavor.