StainedGlassWindows.com
Handcrafted & Custom-made Glass Panels
Committed to designing and creating authentic, high quality stained glass products hand-made right in our studio. Delivering quality stained glass at a great price, with one of the fastest lead times available, has made us the leading supplier of custom stained glass windows in the nation.
Get Inspired! Navigate our catalog
Find the window of your dreams
We can customize any window you like in your desired shape, color or size
Stained Glass for Homeowners
Search windows by Specific rooms in your house
Stained Glass for Commercial Use
Search Windows for Religious, Commercial Purpose
Stained Glass for Religious, Commercial Purpose
Our stained glass panels have the power to inspire emotions of joy as well as reverence. From commercial establishments to religious ones, we cater to your demands with equal zeal. Check out our handcrafted stained glass options for a theme of your choice.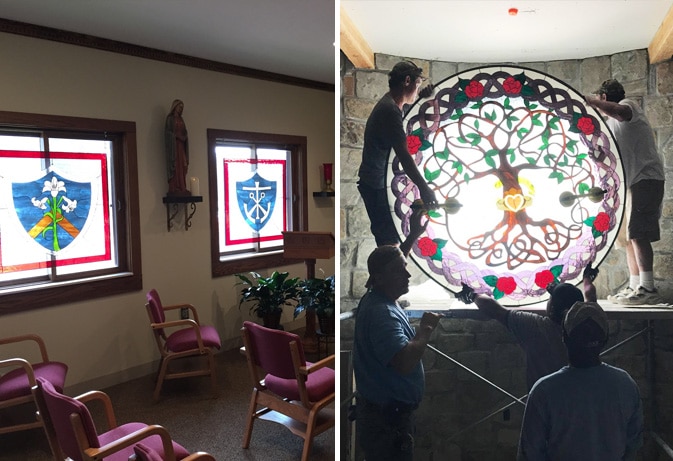 Recently Completed Projects
We have built our reputation on exceptional customer service, the work of our master craftsman, and the atmosphere, beauty, and enjoyment our windows bring to the homes, offices and businesses of our clients.
Custom, Made-to-order Stained Glass
We provide custom, hand crafted, high quality stained glass products to our clients. Browse through our website for patterns, send us an image of your liking, or simply give us your own ideas and we will create the most outstanding stained glass just for you.
For Industry Partners
If you are or want to be in the business of offering a stained glass option to your clients, consider us. We value industry partners like you and have reasonable prices and quick lead times. Connect with us today no matter where you are in the country, we ship nationwide!
For: Interior Designers | Architects | Cabinet Makers | Window Frame Makers | Wood workers
Our Features
Timeless design: Our authentic stained glass windows will last for centuries to come. When you purchase one of our custom creations, you not only beautify your home, you invest in an heirloom your family will cherish for years to come.
Love at first sight: You will fall in love with our custom hand-crafted, leaded stained glass windows, doors & domes. They make the perfect addition to any decor, adding elegance, tranquility and beauty to your home.
Custom patterns: We can model your leaded stained glass to match the current decor in your home, or design you an original pattern from scratch. We work closely with each of our clients, through each step in the custom-creation of their own special masterpiece.
Free Shipping: We offer free shipping to the continental U.S. on all stock-sized items purchased on our website (Does not apply to custom sized panels).
New Product Available!
Open up your space to more light without sacrificing privacy