Make religious symbols and décor more than just a symbol of devotion. Make them even more meaningful with Religious Stained Glass.
Each religion has symbols, historically-significant people, places, and things. Regardless of which religion you follow, having a masterful creation of your devotion is all the more compelling when fashioned from stained glass.
We offer a variety of stunning inserts that you can hang in your place or worship or right at home to feel closer in prayer and meditation.
Religious imagery for a place of worship sends for a message of invitation for others to join in services and makes those of the same faith feel welcome. We can help you create something for the outside of your church, cathedral, synagogue, or any other religious building. We can also design religious imagery through stained glass that will add a reverent touch to your personal space.
From crosses to the Star of David, to all the notable religious figures throughout history, we can make intricate stained glass motif designs or keep it very simple yet no less beautiful. Our stunning depictions are something you'll be proud to display as a symbol of your faith.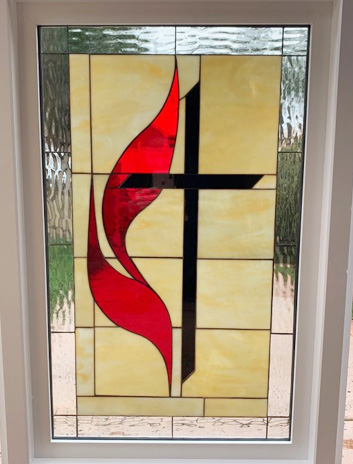 Stained glass is often associated with religious places because ages ago, only the faith communities could commission this art form when it was first starting out.
Stained glass religious imagery sheds light on the love from the Lord
It's a masterpiece and religious symbol all in one. With the light coming through from our religious imagery stained glass pieces, it provides all the decor you'll ever need in your place of worship.
You can have it backlit for more effect. If you're unable to change out the windows in your worship space or want to brighten up an area that doesn't get natural light, let us craft a backlit version that lights up the room. This is also a stunning way to beautify any room in your home with the glory of your religion.
Versatile designs available. Religious imagery doesn't need to take up whole windows. We also offer easy-to-hang stained glass panels that you can set up in your worship space or at home.
Any religion is a work of art. We are accepting of all religions and will uphold absolute integrity in creating a custom stained glass design that is a beautiful reflection of your beliefs.
Religious Stained Glass Panels
32 x 14 The Sierra Madre – taking out pink and adding red Shipped to Marquette, MI
Stained glass is the epitome of religious imagery
A long time ago, stained glass was only seen in churches. As this art form began to take off, the churches and cathedrals were the only ones capable of commissioning the work. The decorative art of stained glass was very expensive to produce back then. Since religious buildings were a gathering place for the entire community, it was seen as a gift to everyone, that the whole town could enjoy together.
As everyone participated in religious events from merchants to nobility, stained glass was then associated with religion. With each type of faith, stained glass artists used it as a means to express the identity of their beliefs.
Today, these relics continue to live on and even those that aren't religious come from afar to bask in the wonder of their creations.
Your design, your way
These days, religious imagery doesn't need to be permanently installed. We offer stained glass panes, window frames, and hanging inserts so you have a choice to make leave it for life or move it around as you see fit.
If you're building a new space for worship, consider building stained glass window frames in as the churches of old did. For homes, you may want to have us design a panel so you can always take your religious imagery stained glass creation wherever you go to inspire you.
While we have a fantastic array of religious imagery designs to choose from and customize to your specific sizes, we can also create something new for you. We're always in touch to ensure that our artisans bring to life your religious imagery exactly as you envision it. Let your religion light the way for your beliefs anywhere you want it!
Stained Glass for Religious Imagery, Crosses
We can customize any window you like in your desired shape, color or size!