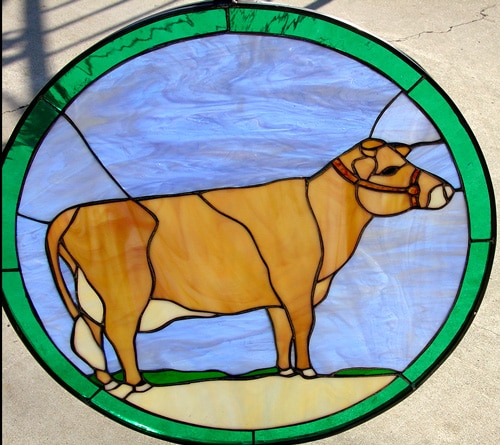 Dairy Cow Leaded Stained Glass Window Panel
$249.00
Product Summary
Item number: #2721
17 x 17 in
Hand-crafted stained glass
Made to order
Free U.S. shipping on this item*
Peaceful and calm, the dairy cow is a kind and generous creature. Our dairy cow leaded stained glass window panel is ideal for any rustic barn house design theme or for those that love cows. With a gorgeous marbled blue sky behind it, the round-cut shape and green border accentuate our peaceful dairy cow for a gentle image, one that brings glorious light into your home.
100% hand cut & soldered stained glass panel made inch by inch
The stained glass comes with hooks, chain and hardware to easily suspend this panel in your window with ease.
This panel can be ordered with no hooks on request so it may be mounted.
We also can frame and insulate it or make it any size you may need. Custom designs welcomed!
Please email us for an instant quote!
Learn about installation options
---
A quick one minute introduction to our company!