All Clear Pineapple Leaded Stained Glass Window Panel
$225.00
Product Summary
Item number: #4201
12 x 16 in
Hand-crafted stained glass
Made to order
Free U.S. shipping on this item*
100% hand cut & soldered stained glass panel made inch by inch
The stained glass comes with hooks, chain and hardware to easily suspend this panel in your window with ease.
This panel can be ordered with no hooks on request so it may be mounted.
We also can frame and insulate it or make it any size you may need. Custom designs welcomed!
Add a tropical touch to your home with our all clear pineapple leaded stained glass window panel. No matter where you live, you give your home a vacation-like feel year-round.
Made with textured clear glass and beveled edges, this pineapple is a great addition for your patio bar or poolside area, or anywhere you'd love to bring in the relaxed vibe of the islands. No passport required!
Learn about installation options
---
A quick one minute introduction to our company!
Product Description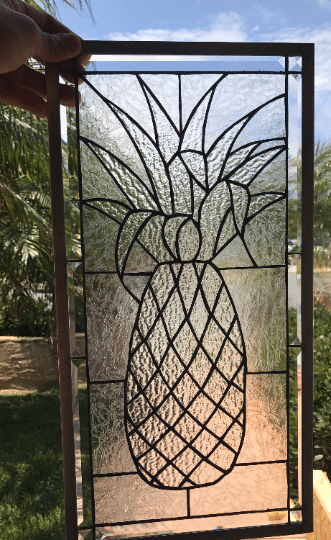 Crystal Pineapple – Less is more with this etched glass pineapple highlighted in a lattice of geometric rectangles.