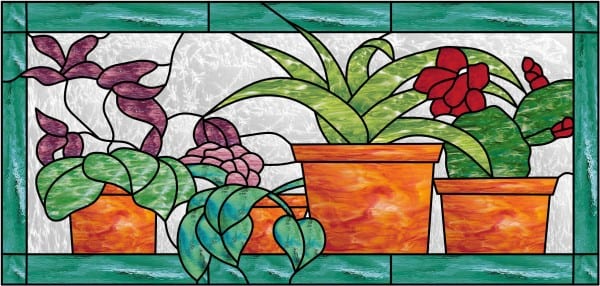 Succulents/Cactus In Terracotta Plant Pots Stained Glass Window
$399.00
Product Summary
Item number: #7964
28 x 15 in
Hand-crafted stained glass
Made to order
Free U.S. shipping on this item*
Have a brown thumb? Enjoy a lush, green garden of southwestern foliage year-round. Our succulents and cactus in terracotta plant pots stained glass window will look sublime in your kitchen window. No watering required! With bright red and purple flowers amid plenty of deep greens, you'll always be able to have a garden of gorgeous southwestern florals to brighten your space.
100% hand cut & soldered stained glass panel made inch by inch
The stained glass comes with hooks, chain and hardware to easily suspend this panel in your window with ease.
This panel can be ordered with no hooks on request so it may be mounted.
We also can frame and insulate it or make it any size you may need. Custom designs welcomed!
Learn about installation options
---
A quick one minute introduction to our company!