Home Owners
If you are a home owner looking to redo the interiors or planning on building a new home, you must check out stained glass options that we bring you. There is no limit to the variety in which stained glass can be used to beautify your home. Complementing your sense of style is always our ultimate goal. For this reason, we handcraft exclusive stained glass items just the way you want them.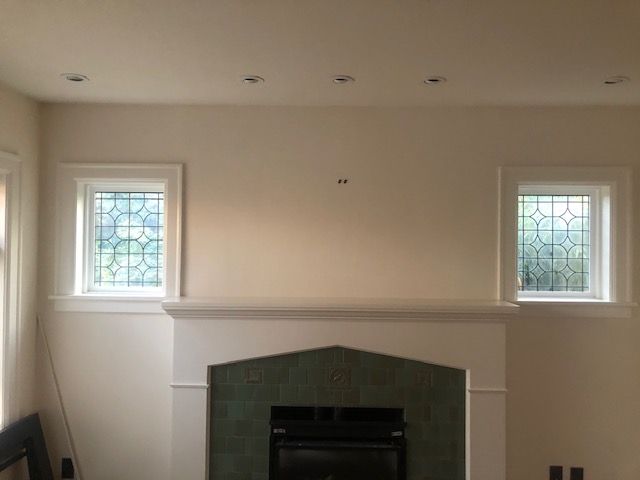 Living Room & Dining Room
Recent Projects
Customer wanted to replace old wood windows that had single pane outdated obscured glass. We provided White Vinyl retro-fit frames,
The Areas of Your Home that Will Look Great with Stained Glass
Bedrooms, bathrooms, kitchen, hallways, stairwells and even basements come to life when you garnish them with stained glass. We bring you design options such as Frank Lloyd Wright, Art Deco, Celtic designs, Mission among others. If you have an unconventional design in your mind, all you need to do is brief us and we will make it happen. Size and shape are never a constraint when you trust us.
The Stained Glass Pieces of Art for Your Home
Ever considered adorning the wall of your living room with a family crest? Our expert craftsmen can make it a reality. We also bring you artistic entryways, transoms, sidelights, and windows. That's not all; we even design the cabinetry in your kitchen, bathrooms, bedrooms and living rooms. With us, you can let your imagination run wild with combination of different frame materials, colored glasses, and textures.
Custom Designs to Standard Products, We Have them All
From contemporary glazed stained glass designs to the more traditional ones, we store a huge variety for you to choose from. Of course, if you wish to make your home one-of-a-kind, our customization will come handy. It's an amazing feeling when you know that you've been an integral part of the design process. Our experts will listen to your suggestions and email you iterations at every step of the design process.
We specialize in:
What Next?
Our design experts are willing to listen to your ideas and to design your dream home. You can call us anytime at 619-454-9702 or drop us an email.
OUR CLIENTS SAYS:
Read client's opinions about our work
"OH WOW! That is all I could say when I opened up the crates. You were right, they even look better in person. They arrived last Monday, and you could never tell that they had traveled over a thousand miles to get here. They were all just like when your staff crated them."
"WOW, ordered a window for a wedding gift, it was gorgeous! Rae is great to work with and window was crated and arrived in perfect condition and right on time!"
"Just received a pair of custom stained glass windows from StainedGlassWindows.com and we are SO glad we found this company!"
DO YOU HAVE ANY QUESTIONS FOR US?
Send us a message:
[contact-form-7 id="176″]