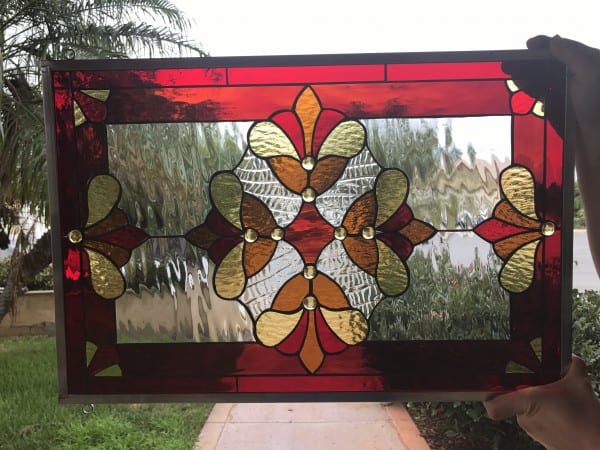 Beautiful! The "Yorba Linda" Leaded Stained Glass Victorian Style Window With Waterglass
$413.00
Product Summary
Item number: #8781
24 x 16 in
Hand-crafted stained glass
Made to order
Free U.S. shipping on this item*
100% hand cut & soldered stained glass panel made inch by inch
The stained glass comes with hooks, chain and hardware to easily suspend this panel in your window with ease.
This panel can be ordered with no hooks on request so it may be mounted.
We also can frame and insulate it or make it any size you may need. Custom designs welcomed!
Inspired by the stunning Californian city, Yorba Linda, our beautiful leaded stained glass Victorian style window features immaculate clear waterglass that shimmers in the background. In the foreground, a gorgeous geometric styling of flowers unites in the center and on the sides creating a magnificent effect. The result is a breathtaking piece, one that commands attention in any setting.
Learn about installation options
---
A quick one minute introduction to our company!